HI, Y'ALL. I wish I could pull "y'all" off in reality. Long time, no blog! I am tacklehugging you all right now. I can't wait to get back to talking about books. The last couple of weeks have been crazy and I didn't have my computer with me to post from. In fact, the subject for today is the The Perks of Being a Wallflower trailer that aired last Sunday at the 2012 MTV Movie Awards. Unfortunately, I was busy having an emotional breakdown at the time because my visit with one of my best friends was coming to an end, so I totally missed it. But seriously, who would want to leave the country with a million Cheez-It flavours?
This is a self-portrait.
Luckily, another one of my bests texted me yesterday asking what I thought of it. I freaked out and said I'd get back to her ASAP. Now I've watched the trailer about twenty times and decided to write up a quick post so that we can all discuss it - because, as always, I need to hear what you think!
Seeing this trailer made my stomach flip. There's no YouTube friendly link yet, so if you haven't yet, click
HERE
to watch it.
Movie trailers are equivalent to book summaries for me. They have to capture the essence of a story and get you hooked with just a sneak peek. With adaptations it's a little different since I know I'm be seeing the movie either way, but I always hope that the trailer gives enough that I'd want to go watch even if I hadn't read the book. I think the Perks trailer succeeds in this.
I love that they open with this. As I mentioned in my The Perks of Being a Wallflower post, Charlie writes letters to share his experiences. The intimate tone is already set from the trailer's beginning. A+.
Charlie, of course, is the first person we see, portrayed by Logan Lerman. I haven't seen anything that he's been in, so I had no preconceptions when I watched this. This makes me downright giddy, because from what I see so far, he IS Charlie. It's his voice as narrator of this story that makes it so perfect, so casting is key. I can't wait to see what he brings to the film, and I can't remember the last time I felt so happy with an actor after just seeing snippets of an adaptation.
Being a Wallflower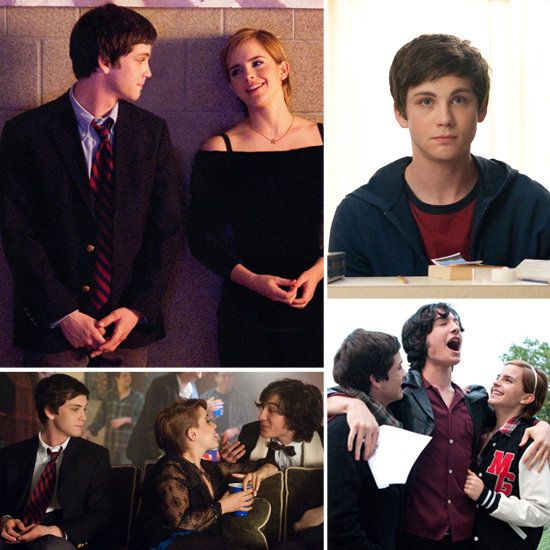 These characters are love.
Our introduction to Sam and Patrick is when Charlie is at the homecoming dance and he steps away from the wall and joins them on the dance floor. How symbolically perfect. They are integral to his journey, and how he transforms. The taste we have of Ezra Miller has me convinced that he will be brilliant as Patrick. He and Logan seem to complement each other so well. The other main character is Emma Watson as Sam. I adore Emma; she's lovely and gorgeous, and I think on an outside, or more superficial, level she's definitely Sam. I need to see more of her to be sure, though. It comes back to what Charlie says in the book:
"I decided then that when I met someone I thought was as beautiful as the song, I should give it to that person. And I didn't mean beautiful on the outside. I meant beautiful in all ways. So, I was giving it to Sam."
Emma needs to convince me that she deserves that song, and Charlie's love. When I find a character who speaks to me (and I think it's like this with Charlie and most people who read Perks), I feel protective of them. Putting a visual to these storylines that I fell in love with is scary in a way, because I want it to be perfect (not that an adaptation ever is, but I always hope it will come close).
Totally not the point, but I have a thing for mascara, and her eyelashes are insane here.
"We accept the love we think we deserve."
This was my favourite part of the trailer. I may or may not have actually cried a bit (I totally did). It's my second favourite quote from the book, and I love that they included it here. In my post on Perks I talked about how big feelings were evoked through simple thoughts. This is a prime example and the delivery was spot on. It makes me believe that they've nailed the tone of the story. PLEASE DON'T LET ME BE WRONG, UNIVERSE.
"Now don't you understand/That I'm never changing who I am"
One final thought is about the song they used. In the book, music is very important, so I feel that the song they chose for the trailer is even more essential than it would normally be. To put it simply, I love. It's hopeful and the lyrics fit Charlie and his world. Do you agree?
To sum it all up, I HAVE HOPE, YOU GUYS. Which scares me, because I really, really, REALLY want this movie to live up to the expectations I have for it. What do you think? Did it capture Charlie and Perks? I want to hear all your thoughts. And on the off chance that you haven't read yet, GET ON THAT RFN. Please and thank you - I promise you won't regret it. <3
A/N: Sorry for the hiatus! After my trip to FL (my goal in life is to live on the beach), I graduated (YAY FOR NO MORE TEXTBOOKS! More time to talk about the fun ones), and now things are finally getting back into a normal rhythm. J, that trip meant the world to me. I fucking love you and B, and can't wait to be there again. JAMIE, thank you so much for the heads up! This is definitely going to have to be a watch-along movie, okay? See you all next week with a new book!!! Happy reading until then. I'd love to hear what you have on your summer list. <3